Burdwan, a town in West Bengal with a population of roughly 4.5 Lakh people is predominantly known for its thriving agriculture and food processing industry. Being situated at the banks of the Damodar river, the land of the surrounding villages is extremely fertile and that has helped Burdwan to secure the first place in terms of rice production.
Due to the heavy cash flow in the agricultural field, people involved with it got big bucks and started investing in other businesses like restaurants, hospitals, schools, real estate etc. This helped Burdwan come out of the tag of an "agriculture-based town" to a regional business hub of West Bengal. With all these economic activities going on, slowly and steadily the IT industry of the town started growing. The number of web development agencies in Burdwan is rapidly growing with every passing day. But unfortunately, till now very few of these web development agencies are reliable. In this article, we are going to name the Top 5 Best Web Development Agencies Based in Burdwan.
What is a Web Development Agency?
A web development agency provides Website, App and Software development services to businesses. There are two different kinds of web development agencies/ companies, 1. SAAS Companies. 2. On-Demand Web Development Companies.
SAAS- SAAS stands for Software As A Service. These companies develop generalised software with general features and sell that same software to different businesses working in a particular field of business. These companies do not generally add customised features for their clients.
On-Demand Web Development- These companies do not develop generalised software for their clients. They meet the client, try to know what the clients are expecting and add features depending on their customers' requirements. If you want to get customised features, these companies are the best fit for you.
What Services Do Web Development Agencies Provide?
Software Development- Software development services are essential in today's digital age, where businesses and organizations rely heavily on technology to achieve their goals. Software development services refer to the process of designing, creating, testing, and maintaining software applications. In this essay, we will explore the different types of software development services, the process involved in delivering these services, and the advantages and challenges associated with them.
Website Development- In today's digital age, having a strong online presence is crucial for businesses to succeed. A well-designed and functional website is a key component of this. However, not all businesses have the expertise or resources to develop a website in-house. This is where website development services come in. In this essay, we will discuss the different types of website development services available, the factors to consider when choosing a service provider, and the benefits of using a professional website development service.
App Development- Mobile applications have become an integral part of our daily lives, providing us with instant access to information, entertainment, and services. As the demand for mobile apps continues to grow, businesses are turning to app development services to create custom applications that meet their unique needs. In this essay, we will explore the process of app development services, factors to consider when choosing a provider, and the benefits of using app development services.
UI Designing- UI Designers help you plan and construct easy-to-use and responsive web applications. Whether you really want a greeting page, a dashboard, a blog, or an online business website, we can convey excellent UI improvement administration that meets your necessities and spending plan. UI Designers utilize the most recent innovations and structures, for example, Respond, Rakish, Vue, Bootstrap, Tailwind, and more to make dazzling and practical web interfaces. Get in touch with us today for a free meeting and statement.
Top 5 Best Web Development Agencies in Burdwan
5. Technofav
Started in 2002, Technofav is one the oldest Web Development agencies based in Burdwan. Technofav provides services like Website Design, Apps Design, Graphic Design, Logo Design etc. Passionate about fulfilling expectations, Technofav offers dynamic innovative solutions to ensure that your business makes the most of the Internet and its many opportunities.
4. Ablion IT Solutions Private Limited
Ablion IT Solutions Private Limited has been operational since 2004 and providing complete web design, web development, mobile apps, graphics and branding solutions to its clients for the last 12 years in various industries including Inc 500+ clients in small, medium and large businesses from different geographies including UK, Australia, Ireland, Germany, Singapore, France and the USA.
3. Techimpace
Techimpace is one the oldest web development agencies based in Burdwan. They mainly serve educational institutions with website and software development services. They claim themselves to be the most reliable agency in Burdwan.
Starting its journey in 2015, Webstine has come a long way and served a few of the largest businesses in Burdwan. Led by Arnab Dutta, a visionary leader and cyber security expert, Webstine has specialised teams for Website, app and software development.
1. Createnex
Led by Ayan Dey, Createnex started its journey on 20th November 2020. Initially, Createnex started with a small team of just 1 web developer. But in just a few years Createnex achieved the heights of success, no one ever touched in Burdwan. Now Createnex has a team of expert Web Developers, Web Designers, Graphic Designers a Video Editors. With clients like Anandamela, Infiniti, Haribansha, Barman Brothers, New Sari Museum, Cheap and Best, Poddar Tradelinks etc, Createnex has worked with most of the big names in Burdwan.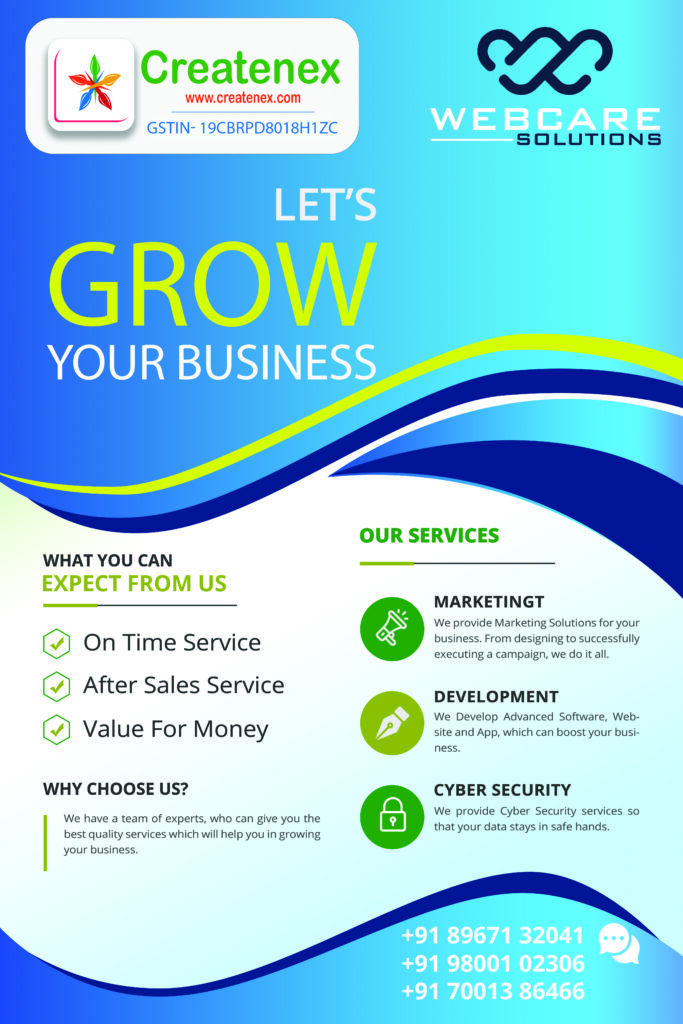 Why Createnex is The Best Web Development Agency in Burdwan?
Always On Time
The team of Createnex believes that Time is Valuable and that's why they never fail to submit their projects on the promised time.
Experienced Team
Led by Ayan Dey, an experienced Digital Marketer, Createnex has experienced members in all the departs.
After Sales Service
Createnex understands that Sales Service is very important for the client and provides the best service to all its clients.
Wide Range of Services
Createnex provides a wide range of services in the fields of IT and marketing. Besides web development, Createnex provides Digital Marketing and Ad Video Production services and also eyeing forward to enter in cyber security services.
We can draw the conclusion that, if you need web development services and want to get it from a company/ agency based in Burdwan, then Createnex will be the best option for you. From an experienced team to the best infrastructure, Createnex has it all to satisfy your IT and marketing needs.